Lodging Experience California 41
Overview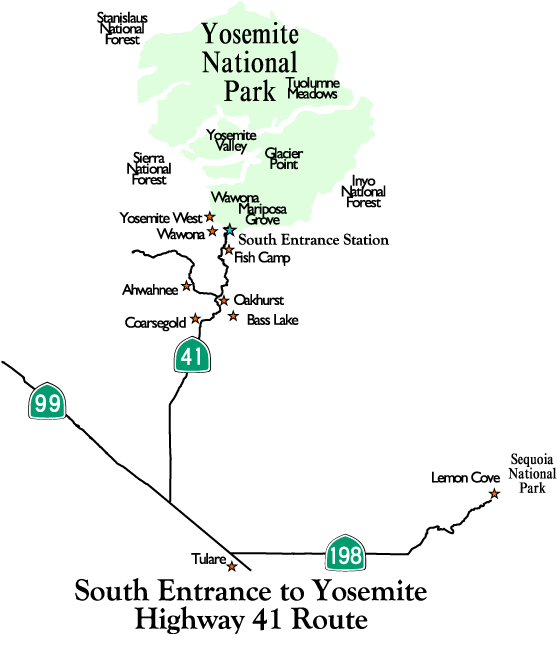 California Highway 41 runs from San Luis Obispo, California to Yosemite. Some sections are eligible for the California Scenic Highway System. This scenic route runs from Oakhurst, California to Yosemite National Park. Visitors can stop at historic sites and marvel at the scenery.
Driving Directions
This scenic drive can be taken from Wawona in Yosemite National Park. Simply go south. Highway 41 CA starts just outside the park and takes you south to Oakhurst.
Time/Distance
This scenic stretch of Highway 41 California runs 21.8 miles one-way and takes about 34 minutes without stopping.
Travelers entering Yosemite National Park through the southern entrance will reach the Wawona area and have access to Yosemite's Mariposa Grove of giant sequoias. You will easily find lodging accommodations in the vicinity of 
Bass Lake, Oakhurst and Fish Camp
Enjoy your choice of water crafts, from pontoon boats, ski boats, jet skis to kayaks, paddle boards and water tubes at Bass Lake. Oakhurst offers restauraunts, wine tasting, fishing, historic museums and much more. In the small community of Fish Camp you may enjoy the Sugar Pine Railroad/Thornberry Museum, horseback riding or mountain biking. 
You may choose to lodge just outside Yosemite's western border. Here you will have easy access to Glacier Point or the Yosemite Valley through the Wawona Tunnel as well as the Badger Pass Ski area. 
America's Best Value Inn
48800 Royal Oaks Drive · (559) 658-5500 · Map · Street View · Reviews · Website · $103 - $269*
Château du Sureau
48688 Victoria Lane · (559) 683-6860 · Map · Street View · Reviews · Website · $385 - $2,950*
Comfort Inn
40489 Highway 41 · (559) 683-8282 · Map · Street View · Reviews · Website · $108 - $485*
Hounds Tooth Inn Bed & Breakfast
42071 Highway 41 · (559) 642-6600 · Map · Street View · Reviews · Website · $164 - $475
Oakhurst Lodge
40302 Highway 41 · (559) 683-4417 · Map · Street View · Reviews · Website · $109 - $199*
Sierra Sky Ranch Resort
50552 Road 632 · (559) 683-8040 · Map · Street View · Reviews · Website · $124 - $289*
Yosemite Gateway Inn Best Western
40530 Highway 41 · (559) 683-2378 · Map · Street View · Reviews · Website · $126 - $320*
Yosemite Sierra Inn
40662 Highway 41 · (877) 642-2525 · Map · Street View · Reviews · Website · $114 - $264*
Yosemite Southgate Hotel & Suites
40644 Highway 41 · (559) 683-3555 · Map · Street View · Reviews · Website · $125 - $235*
Yosemite West (Yosemite National Park CA 95389)
Cozy Bear Cottages 209.372.4054 / 877.479.2327 / fax 209.372.8874
Suite Sunshine 888.372.8989
Yosemite Places In Paradise 559.683.8425
Yosemite Sunset House 831.624.2066
Yosemite West Condominiums 888.296.7364 / international 310.314.1580
Yosemite West High Sierra Bed & Breakfast 209.372.4808 (telephone 9:00 am to 9:00 pm Pacific Time only)
Yosemite West Reservations 559.642.2211 (telephone Monday through Friday 9:00 am to 5:00 pm Pacific Time only)
Yosemite's Four Seasons 800.669.9300 / 209.372.9000 / fax 209.372.8800
Yosemite's Scenic Wonders 888.967.3648 / fax 310.582.0091
Yosemite's Top of the Pines 925.634.1179 / fax 925.634.1639
Wawona (Yosemite National Park CA 95389)
The Redwoods in Yosemite 877.753.8566
The Summit House 323.702.5015 / 805.984.8011
Fish Camp CA 93623
Big Creek Inn 559.641.2828
Little Ahwahnee Inn 559.683.5052
Logger's Retreat Vacation Home 626.798.1094
Narrow Gauge Inn 559.683.7720 / 888.644.9050 / fax 559.683.2139
Tenaya Lodge at Yosemite Reservations 888.514.2167 / International 801.559.4919
White Chief Mountain Lodge 559.683.5444 / fax 559.683.2615
Oakhurst CA 93644
Information: Yosemite Sierra Visitors Bureau
Best Western Yosemite Gateway Inn 800.545.5462 / 559.683.2378 / fax 559.683.3813
Chateau du Sureau 559.683.6860 / fax 559.683.0800
Comfort Inn Yosemite Area 559.683.8282 / fax 559.658.7030
A Haven Of Rest Bed & Breakfast 559.642.2617 / 559.779.1445
Holiday Inn Express 800.432.9746 / 559.642.2525 / fax 559.658.8481
Hounds Tooth Inn 559.642.6600 / 888.642.6610 / fax 559.658.2946
Ople's Guest House 559.683.4317
Shilo Inn Suites 800.222.2244 / 559.683.3555 / fax 559.683.3386
Sierra Sky Ranch Resort 559.683.8040 / fax 559.685.7484
Bass Lake CA 93604
Bass Lake Bed & Breakfast 559.642.3618
The Pines Resort 800.350.7463 / 559.642.3121
41969 Highway 41, Oakhurst CA 93644
559.683.4636 / fax 559.686.5697